Joel Veikko Soinila
(Real Estate Broker/Owner)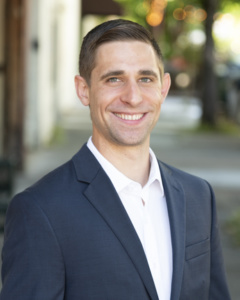 Mendocino County Local Area Expertise
Owner and broker of record at Veikko Properties LLC.  Raised in Redwood Valley, Joel has been a resident of Mendocino County for the past three decades.  His family's roots date back over a century, his grandpa Veikko Soinila opened Vic's Place in Redwood Valley in the late 1940s.  Joel attended Ukiah High School, and then graduated Cal Poly San Luis Obispo and received a BS in Agricultural Business.  His interest in real estate was ignited when he was 21 years old and started managing properties for commercial, residential, and bare land.  After spending eight years as a financial analyst, productivity engineer and property manager, he now is an Owner of an Independent Real Estate Brokerage.
He is very involved in the Community he lives in volunteering with CASA of Mendocino & Lake Counties as well as Junior Achievement which educates the youth of our future in financial literacy.  Joel is a proud member of Leadership Mendocino class of XXV.  He is honored to serve the Mendocino County community in a capacity as an independent real estate broker-agent with Veikko Properties.
Broker on File Education: California Polytechnic State University-San Luis Obispo – Agriculture Business BS / UOP Master of Business Administration (MBA) / Executive Programs Real Estate School
(Agricultural Property Management and Sales, Rural Property Appraisal, Real Estate Appraisal, Business Law/Ethics and Social Responsibility, Operations Management, Organizational Theory and Behavior, Managerial Accounting, Marketing Management, Legal Responsibilities of Business, Real Estate Practice, Legal Aspects of Real Estate, Real Estate Finance,  Agricultural Lending, Principles of Agribusiness Management, Agricultural Economics, Agribusiness Credit and Finance, Agricultural Economics Analysis, Farm Accounting, ).